Came across this pretty entertaining band from Israel called  Monotonix. I don't know if they always play in the middle of the crowd like this but it looks like a really rowdy fun time. Apparently the Seattle police shut down this particular show after 14 minutes. I wish I would have went to see them when they were in town a couple of weeks ago!
I came across this really cool stop motion animation on The Nerdist blog (which I recommend if you have not visited). Pretty cool what you can do with a few candles and a little imagination.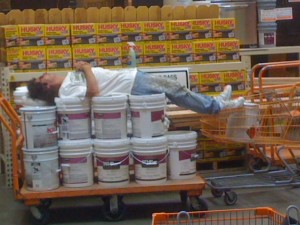 I have been fixing water damage in our basement for the last few days and quite frankly, I'm dragging ass right now. I can really relate to this guy I saw at Home Depot  yesterday but I don't care how tired I am  I don't think I could sleep in the middle of an aisle on top of some paint buckets. The ability to take a nap anywhere must be a wonderful thing. Of course some would argue I do that all the time.